Cleaning your windows and doors is such a daunting task, especially when it's not done regularly. Dust can gather and toughen over time, making the process harder. We've listed a few tips to help get you started and make cleaning a breeze.
Aluminium windows and doors are known to be low-maintenance but need to be cleaned regularly. To do this, you should clean both the glass panels and the aluminium frames. The best way to do this is to clean them from top to bottom.
So, what should you do first?
Gather All Your Cleaning Materials
The first thing that you should do is to make sure that all your cleaning materials in the checklist below are ready:
Bucket or garden hose
Glass cleaner or mild detergent
Aluminium cleaner or mild detergent (make sure they're non-abrasive)
Clean water (lukewarm works best for both glass and aluminium)
Soft-bristled brush
Soft sponge
Dry and soft microfibre cloth (similar to the orange cloth used for cars) or old t-shirt
Cotton buds
Squeegee or newspaper
Hinge lubricant or grease (this is optional)
After making sure that you have all that you need, gear up and get cleaning. Make sure you wear gloves and comfortable clothes. Wear something that you wouldn't mind getting messed up or perhaps stained.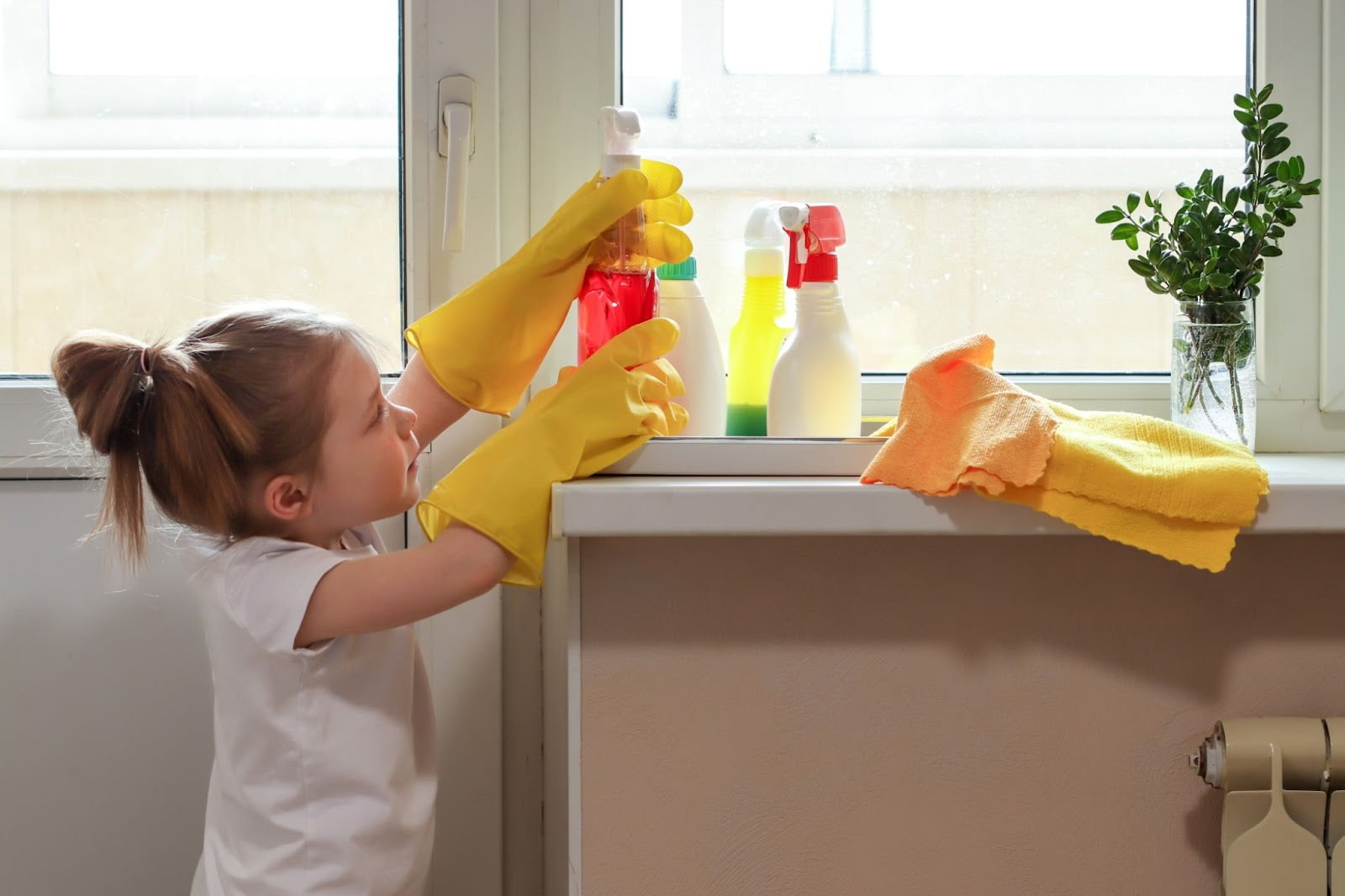 Cleaning Steps and Tips for Aluminium Doors and Windows
Whether you're cleaning just windows, doors or both, it is best to start from the interior to the exterior sides.
Cleaning the Interior Glass Panels
Let's start cleaning the inside of the glass panels. Here's how:
Get your glass cleaner and spray across the glass. You can do it from left to right or right to left but make sure you go from top to bottom.
Wipe the glass with a soft sponge, microfibre cloth or old t-shirt
In some cases, streaks form due to dust and the fibres from the cloth you used. You can clear the streaks with a squeegee or old newspaper. Similarly, work your way from left to right and top to bottom.
When the corners of the glass panels are typically hard to reach and can't be cleaned with a cloth, sponge and squeegee, you can use cotton buds to clean them.
Are there ways to minimise the streaks?
Here are some tips on how you can lessen the formation of streaks on your glass panels:
One of the best and most classic ways of clearing glass windows is with the use of old newspapers. They are known to have dense fibres leaving less room for lint to cause streaks on your glass panels.
Another great way to have a streak-free glass panel is to use a squeegee. Many professional glass cleaning service providers use a sponge squeegee followed by a rubber squeegee to ensure clean glass doors and windows.
Avoid cleaning your glass doors and windows on a sunny day. The heat of the sun can easily dry up the glass leaving streak marks on it. It is recommended to do the cleaning on a cloudy but not rainy day.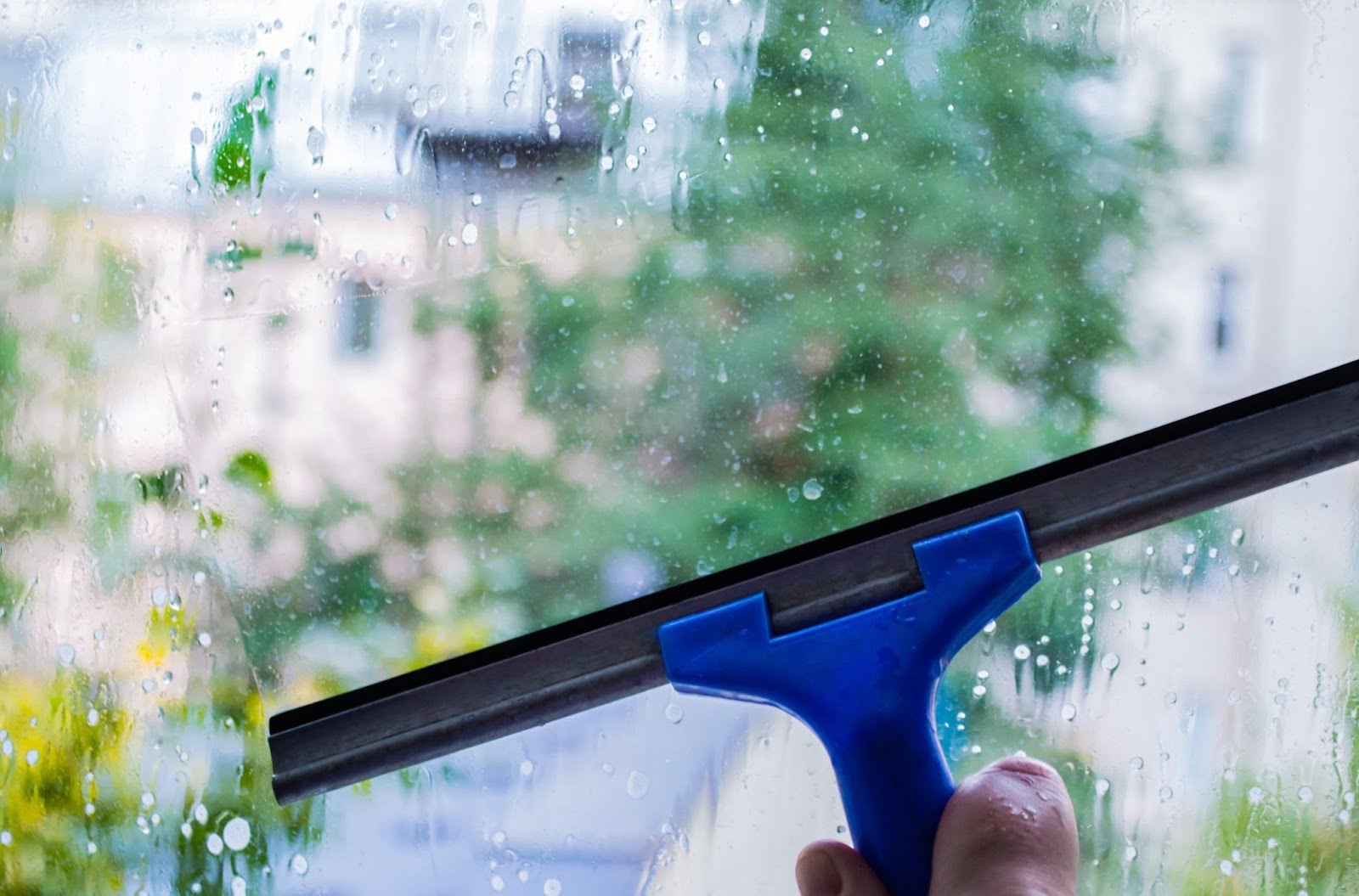 Cleaning the Interior Aluminium Frames
Now that your glass panels inside are spic and span, it's time to work on your aluminium frames. Here's what you should do:
The door and window frames inside the house are less prone to serious damage, stains and dirt accumulation. All you need is to clean it with a non-abrasive aluminium cleaner using a soft sponge or cloth.
You may opt to use lukewarm water and mild detergent solution to clean the aluminium frame. Just make sure that your detergent is aluminium friendly. Rinse off with clean water using a sponge.
Dry the frames with a clean, soft microfibre cloth.
What should you do with stubborn stains?
If there are stubborn stains on your aluminium frames, you may try using an ink rubber. Remember to do it gently. If the stains wouldn't come off, stop scrubbing and ask for the help of a professional cleaner.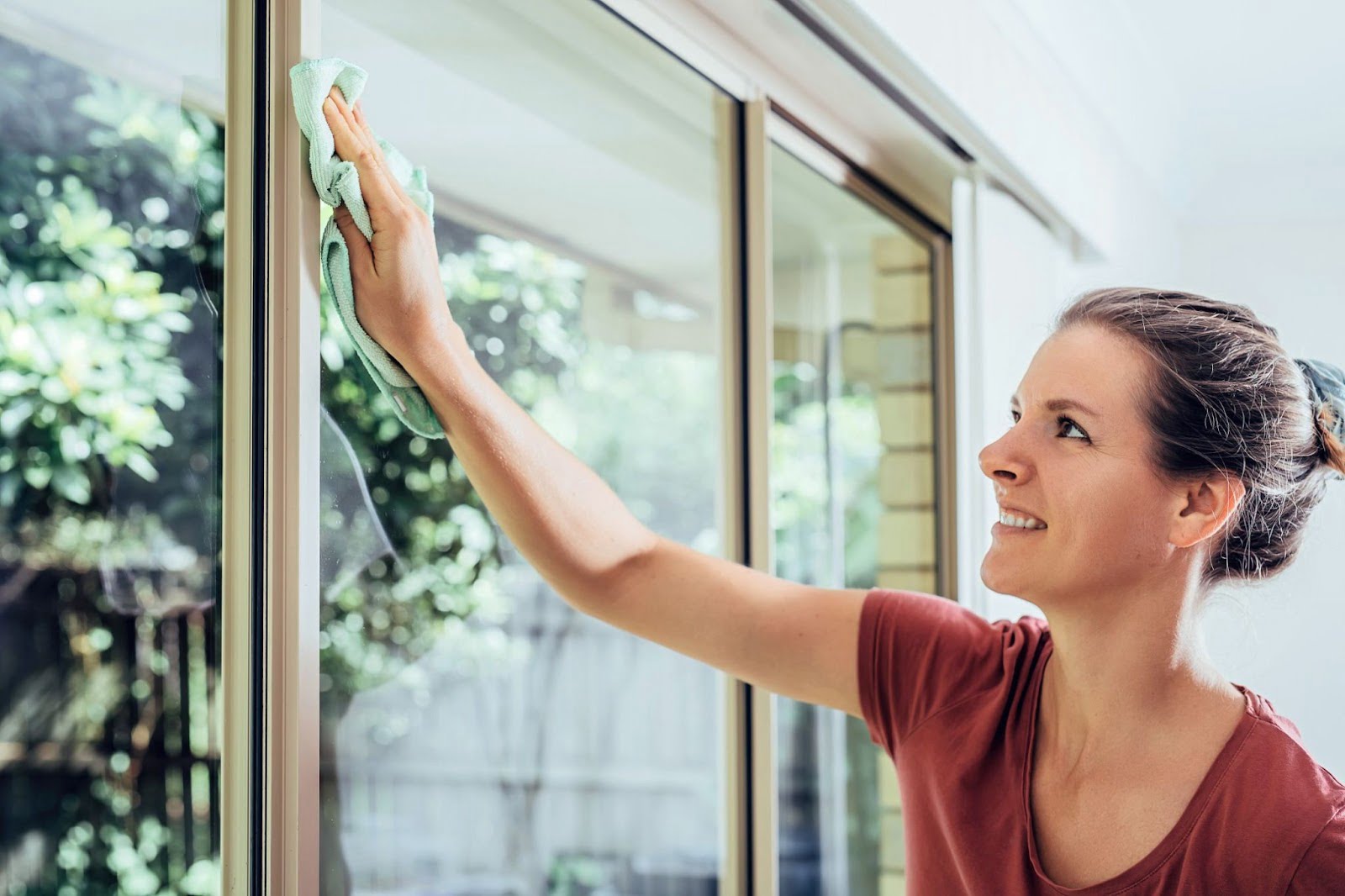 Cleaning the Interior Doors and Windows
After cleaning the interiors, let's get working on the outside. The exteriors of your doors and windows are more exposed to harsh environmental dirt, so they may need more aggressive cleaning. Keep in mind to remain gentle in scrubbing your frames.
The first thing to do is spray down your doors and windows with water using a hose. This helps eliminate all the superficial dirt on both the glass and aluminium parts. Make sure that they are tightly closed before doing this, as we do not want to flood down the house.
Gently scrub the aluminium frames with your soap solution using a sponge. Do this for the entire frame.
Rinse off with clean water using a hose.
Wipe off the excess water on the glass panels and clean it the same way you did inside.
Lastly, dry the frames with a clean, soft cloth just like you did inside.
Your aluminium doors and windows are now clean and perfect. However, you may also apply silicone-based lubricants on the joints, hinges, locking systems and springs of the door and windows for better functionality.
Contact Aussie Aluminium Enterprise to learn more!